"The Cure for your Audio Ailments"
| | |
| --- | --- |
| Posted on April 21, 2015 at 6:31 PM | |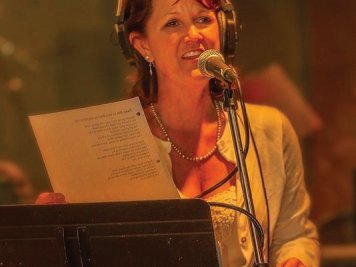 Randi Fay won't forget where she was when she learned she scored her first two Wisconsin Area Music Industry Awards nominations.
The jazz singer from Green Bay was 12,000 feet above sea level skiing the See Forever run in Telluride, Colo., when she and her husband, John, decided to stop at a wine hut on the hill. John got a message on his phone. It was a photo of a tweet from Press-Gazette Media announcing Randi's nominations for female vocalist and jazz artist.
Her reaction: "What?!"
It's fitting that the news came to her in Telluride, where she wrote "Falling," the title track off her 2014 album of all-original music with her ensemble Limited Edition.
She's had weeks for the news to sink in, but Fay still can't quite believe she'll be in a room filled with some of the state's finest musicians for Sunday night's WAMI Awards ceremony at Turner Hall Ballroom in Milwaukee. The little girl who grew up with older sisters in a house where The Beatles and The Monkees were inescapable says she's still in shock that she's now "WAMI Award-nominated artist Randi Fay."
"I'm happy my form of jazz is recognized as a form of jazz, because we have preconceived notions about everything, and it's not as brainy as some jazz appears to be, though my guys are so brilliant they make it seem not brainy," she said. "I'm thrilled, because I love to sing my heart out, and I'm glad there's appreciation for that."
Fay talks about her style of "lyrical jazz," how she went from being a veterinarian to a performer and where you're likely to find the mom of three grown children on her day off. First, however, a few words about her name. People have been mispronouncing it her whole life. She explains it with a rhyme her friends at veterinary school made up years ago: "It's Randi like Gandhi, not Randy like candy."
Earliest music memories: "I was in love with 'Mary Poppins.' I was in love with 'The Sound of Music.' I was in love with 'Jesus Christ Superstar.' All these shows that were the '60s and '70s Broadway shows."
Her love of classic '60s vinyl inspired her and a childhood friend to make up their own girl group, T&M Temptations. "This was fourth grade on the front lawn and we were looking up at the stars wishing Davy Jones would come sing with us." (T&M, by the way, were Tim and Mark, the boys they had crushes on.)
Career paths traveled: A graduate of Preble High School, she got her biology degree at Boston College, where she met her husband. They moved to the Twin Cities to get their master's degrees. During their 15 years there, she practiced veterinary medicine for 10 years before they moved to Green Bay in the late '90s. A series of injuries to her right hand over the course of several years eventually sent her career in a new direction.
"There's a saying that if you keep banging your head against something maybe you need to find a different route," she said.
She dabbled in local dinner theater. Her first music project was a CD of lullabies to express her love for her own kids, who were away at college. She began working with multi-instrumentalist and producer Hans Christian of Studio 330 in Sturgeon Bay and then playing with pianist John Contratto. She's been doing music full time since 2010.
"It's all kind of one of these things where these opportunities that present themselves, you don't know where they're going to take you but you just keep saying yes and you are brought somewhere."
What's lyrical jazz: "There was a time in the '40s and '50s when jazz was the people's music. It's what kids (sneaked) away and would go listen to. It was kind of like whatever the scary music is now parents don't want their kids to listen to, but there was something so true about the '40s, '50s and '60s. What I'm talking about is the standards. I don't want to claim that I can write a standard or rewrite a standard, but I love the feel of the standards, where the lyrics matter. I'm a lyricist. I can communicate my lyrics more easily than I can the music that's in my head.
"I'm playing with these amazing, brilliant jazz/blues, multitalented, multigenre musicians, and we get out there and are we going to swing it? Let's do it Latin. Let's do this. We're taking music and just giving it this jazzy, bluesy, Latiny vibe, and I'm singing away, so it's just these lyrical, catchy tunes and great rhythms — reminiscent of the standards but contemporary."
Who's who in Limited Edition: Bob Balsley, guitar; Mick Maloney, bass; Greg Pagel, piano and keyboards; Kevin Crocker, drums; Kurt Risch, percussion and drums. "My group is called Limited Edition, because we may never play the same song the same way twice."
Musical influences: The Monkees, The Beatles, writers Harold Arlen and Hoagy Carmichael, lyricist Johnny Mercer and singers Ella Fitzgerald, Dinah Shore, Julie London and Doris Day
Her two favorite places for songwriting inspiration: "Telluride, which is this glorious mountainous region with these towering peaks and this beautiful valley. My whole experience of becoming a songwriter and a performer has played out there quite a bit. It's just a really intense and beautiful place for me. The other place is Door County."
Where you'll find her on a day off: "I'll be with my dog, in nature, on the beach." Or enjoying her new granddaughter.
Upcoming gigs: Fay has tightened her playing schedule this year to concentrate on writing. She's taking an online songwriting class through Berklee College of Music and a digital audio workshop to learn home recording. Look for her next at 8 p.m. May 1 at La Vie Boheme, 421 George St., De Pere, and 7 p.m. May 15 at Chefusion, 307 N. Broadway, Green Bay.
Categories: Clients
/