"The Cure for your Audio Ailments"
| | |
| --- | --- |
| Posted on May 14, 2014 at 9:38 PM | |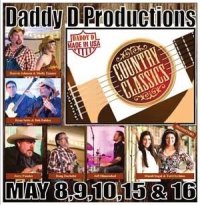 GREEN BAY, Wis. (WFRV) – The thing about Daddy D Productions shows is they're the same but different. Take "Country Classics," running through May 16 at the Riverside Ballroom in Green Bay; info:
www.daddyds.com
.
If you've been into country music a long time, you've heard just about all the songs in the show many times over the years because they're – ta-da – country classics.

The different part of the show comes from what the individual performers add.
Also, Daddy D (Darren Johnson) has a knack for featuring new, young talent. Songs don't seem old and dusty when sung by singers barely into their 20s, if that in some cases. And then there are the characters that invade the Daddy D shows. Ah, the characters. There's always fun play-acting. Some highlights from this show:
- Darren Johnson wheels through an array of larger-than-life oddballs. In one song, he's a mop-top swamp guy losing an arm and a sheriff. In another, he's a white-whiskered Kenny Rogers. In another, he's a songwriter who meets a hangman (no future in that, you know). And then there's his totally over the top Skip Church, bursting with barnyard animal sounds as he wok wok, squawk squawk tells a buk buk buk joke about a donkey hee haw in a well. Amazing.
- Shelly Emmer dresses up often for songs – a long zebra-stripped hip-hugging dress, a strapless party gown, cowgirl hat and jeans, etc. Looks nice. And then here she comes – gray wig, frumpy housecoat and slippers – to spoof "Stand By Your Man." Stand by your man? Ha! "Hog Tie Your Man" she sings.
- Doug Dachelet comes out as Grandpa Jones, offering pearls of wisdom about knowing when you're retired. And he's a cowpoke on the streets of Laredo. And, among other guys, he's Elmer Fudd, hunting gun in hand, singing a tongue-in-cheek version of Eddie Rabbit's "I Love a Rainy Night" that comes out "I Wuv a Wabbit Night."
- Manditori – the singing duo of Nashville hopefuls Mandi Sagal and Tori Occhino – adds a youth element. Along with covering some golden hits, the two sing their own "Never Love Him Less," brim with the country fashion of turning phrases (on loving a guy despite his flaws). The two have a good sound, with harmonics. Darren Johnson gives them a bit more stage time from their stand-alone appearances in cheesehead jokes (good ones) and the finale, "How Great Thou Art." The hymn features the two joining with Shelly Emmer for a glowing a cappella opening. My preference would be for the young singers to not move their arms for emphasis in this song but, like Shelly Emmer, stand still and let all meaning come through the voice. It's the song, not the singer(s) in this case.
- With its male lineup, Daddy D can do a compelling rendition of "Highwayman" – Jeff Hinnendael, Bob Balsley, Doug Dachelet and Darren Johnson as different, striking characters through history.
- Among songwriters of the show's country classics, even Stephen Foster gets a turn. No, not "Sewanee" or "Camptown Races," but "Hard Times Come Again No More," with Bob Balsley embracing the deep-digging lyrics.
The show is certainly packed with variety. (4 ½ stars out of 5)
The troupe's traditional salute to the military is near the end. This time, Darren Johnson sings a song of separation, "You Were Always on My Mind." It's one of those Darren Johnson performances that people come to see Daddy D shows for – the big voice rising to all-out power. Jerry Pansier's steel guitar playing adds a soulfulness in the middle. And then Darren Johnson powers some more.
***
Performers:
Singers: Darren Johnson, Shelly Emmer, Doug Dachelet, Mandi Sagal, Tori Occhino, Jeff Hinnendael. Band: Bob Balsley, guitar; Jerry Pansier, steel guitar; Ryan Sette, bass; Jeff Hinnendael, drums.
Categories: Engagements
/