"The Cure for your Audio Ailments"
| | |
| --- | --- |
| Posted on August 16, 2013 at 11:41 AM | |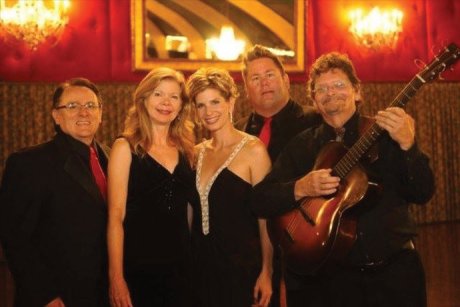 PHOTO: Among the cast of Daddy D Productions are, from left, Doug Dachelet, Barb Hinnendael, Shelly Emmer, Darren Johnson and Bob Balsley.
GREEN BAY, WISC. (WFRV) – There's something captivating about an unadorned, straight up version of "The Star-Spangled Banner" sung solo by a strong, sure voice. It's refreshing to hear our national anthem that way, as a gesture of appreciation and a center of attention. Daddy D Productions' "Salute to Our Veterans" opens with "The Star-Spangled Banner" sung right on by Doug Dachelet, and the rest of the show that follows (four and one-half stars out of five) is loaded with appeal. Info:
www.daddyds.com
.
On opening night Thursday, Aug. 15, troupe leader Darren Johnson told the audience at Green Bay's Riverside Ballroom that of all the shows his troupe puts on, this is the one he is most proud of. Johnson has good reason.
Songs are meaningful. Each in some way is about military service to our country, from tender and melancholy to comic and teasing.
The Daddy D performers embrace the material, and "Salute to Our Veterans" becomes something that reaches past the title and is simply enjoyable entertainment. It's hard to explain – you gotta be there.
If the word "old" comes to mind when thinking of "Salute to Our Veterans" music, think again. Johnson has two talented high school girls who blend into the show who bring a young perspective to songs.
Take "What'll I Do." It's from 1923. The song is of separation, the kind millions of Americans feel in times of war when loved ones are gone. When Maria Sausen sings the song and in expression and movement becomes a young woman, alone, the words dig deep:
"What'll I do
When you are far away
And I am blue
What'll I do?"
And that's just one song in the experience of this show. Here are glimpses of other moments:
- Johnson unleashes his powerful voice in "Bring Him Home" from "Les Miserables." There's added significance because of so much has been poured into the night.
- Johnson tells the stories behind uniforms adorning the stage. He kids that from his Army days, only his boots fit. He notes that one uniform is that of his sister, Joy, a first lieutenant, serving today in Georgia. Another uniform is that of his late father, James. He displays a Green Bay Press-Gazette that his father and mother, Marilyn, used to help store the uniform when they put it away on Feb. 29, 1960. This is Johnson's introduction for Keri Salscheider, like Sausen, a senior at Notre Dame Academy, to play guitar and sing, dressed in '60s Flower Power clothing, the Bob Dylan song, "Hard Rain." Again, youthfulness freshens the song – plus you can understand the words that Dylan chewed.
- Shelly Emmer radiates in "Midnight Train to Georgia."
- Randi Fay stirs up a rousing "God Bless America."
- Kevin Van Ess, on clarinet, uses "Sing, Sing, Sing" as a launching pad for dazzling improvisation.
- Bob Balsley adds layer upon layer of guitar sounds to the super-lively "Nagasaki."
- Whatever the tune, Barb Hinnendael, keyboards; Kurt Risch, drums; Ryan Sette, bass; Dan Collins, sound and lights; Van Ess, and Balsley are there to make the result a team effort.
- Johnson and Dachelet add comedy routines as crazy characters who drop laughable lines, as Dachelet as a deer hunter: "I sleep better at deer camp than I do in church."
Many costumes are part of this show. The women wear a stylized Navy uniform for some songs and a variety of gowns in others.
The soundscape of this show includes "We Gotta Get Out of This Place," "Boogie Woogie Bugle Boy," "Over There," "Old Black Magic" and "Proud to Be an American" – just to give you an idea of the variety.
Four more performances are scheduled through Aug. 24.
THE VENUE:
The spacious Riverside Ballroom Crystal Ballroom is the heart of the 1936 Art Moderne building on Green Bay's east side. Performances are on a raised stage on which rock 'n' roll legends Buddy Holly, Ritchie Valens and the Big Bopper performed a famed concert. Seating is at round tables on the ballroom floor. The ballroom features high, sweeping, laminated wood beams with streamlined, curved decoration at the base of each beam. Hanging from the ceiling are Czechoslovakian crystal chandeliers. The building is on the National Register of Historic Places. Imagine the Green Bay Packers holding practice inside the ballroom. That happened a few times, according to a Packers Heritage Trail plaque outside.
Upcoming Shows you will not want to miss:
-"Forever '50s," Sept. 26-Oct. 4;

-"A Christmas Carol" (with Stu Smith), Nov. 21-23;

-"2013 Christmas Show," Dec. 12-21 (two locations).
Categories: Engagements
/